Trickster Drift by Eden Robinson

I loved this better than the first book in the trilogy, which I liked plenty. My one and only beef is that it ends on a cliffhanger, so if that bothers you, you should wait until the third book is out before you read this one.

I think there were several reasons why I liked Trickster Drift so much:

1) Jared is a great character who has grown and developed and has become a really likeable protagonist.
2) He is living with his awesome Aunt Mave and her assorted nephews, nieces, hangers-on, and resident ghosts. I adore this side of his family as much as I dislike his mother, who plays a much bigger role in the first book and a blessedly small one in this book.
3) As a college upgrading instructor, I loved that he was attending college in downtown Vancouver to do upgrading classes so he could get into a sonography program.
4) The book is set in my old neighbourhood in East Vancouver and I recognized so many landmarks–his aunt's housing co-op is actually a real place that I have walked past and the characters frequent a real cafe I used to go to regularly.
5) In the last book, I felt there wasn't enough balance between the real world and the spiritual one, but I felt the balance was just right in this one.

Now, some people may not like the slightly meandering pace, but I didn't mind at all; the reason for the meandering is that we need to spend time getting immersed in Jared's living situation and getting to know his lovely, maddening, hilarious relatives. The one thing that annoyed me was how Jared is perpetually in SO MUCH immediate danger from his stalker ex-stepdad, but always refuses to ask anyone for help. However, I have to admit this piece of dumbassery was totally consistent with his character and pretty realistic for a teenager.

I hope this book gets made into a movie. It's so visually rich, and the ending is another one of those amazing wild rides like the ending to the previous book.

It's going to be hard waiting for the final book in the trilogy.
Women Talking: A Novel by Miriam Toews

In the Acknowledgements section of this beautifully written novel, Miriam Toews writes, "I wish…to acknowledge the girls and women living in patriarchal, authoritarian (Mennonite and non-Mennonite) communities across the globe. Love and solidarity." The book is fiction, but centred around true events that happened in an isolated Mennonite colony in Bolivia.

The plot is simple: after they discover the colony's male elders plan to compel them to forgive the men who committed horrific sexual assaults against them and their children, three generations of Mennonite women debate at secret meetings whether to stay and do nothing, stay and fight, or leave the community. Complicating matters is the fact that the women aren't able to read or write and have no idea what lies beyond the colony because they're not allowed access to technology. Because they cannot read or write, they ask the only man they can trust, the boys' schoolteacher, to take minutes of their meetings for posterity.

If you are interested in good literature, you should read this. If you are interested in feminist literature, you should definitely read this. It is by turns heartbreaking, uplifting, funny, and sombre, and the prose is elegant in its spareness.
Magpie Murders by Anthony Horowitz

What a cleverly structured book! Editor Susan Ryeland settles down with great anticipation to read the finished pre-publication draft of the latest novel in a bestselling mystery series. As she does so, we the readers are now plunged into a completely different story: suddenly, we are reading the same mystery novel Susan is reading. As we move back and forth between the two narratives, the fictional detective Atticus Pund provides the clues Susan needs to solve a real-life murder mystery that is complex and enjoyable.

Special praise for the audiobook narrators: their voice acting is superb.
The Immortalists by Chloe Benjamin

Beautifully written, mesmerizing, and heartbreaking. There are many terribly wrenching scenes in this book, and it was not always easy to keep reading. Or maybe I'm just a sensitive soul. But I did finish it and I'm glad.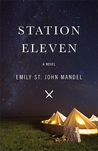 Station Eleven by Emily St. John Mandel

What a beautiful book. I am so glad I read it. I like to read dystopian fiction and this is definitely a worthy addition to the genre. The prose is lovely, the characters fascinating, and the world building very solidly done. But really, of course, this novel is more about existential questions than surviving an apocalypse–though it is about that too. (In fact, the pandemic is such a plausible scenario that it is a bit discomfiting to read; I read the section "The Terminal" while in an airport and then on a plane, which, let me tell you, added a very odd sensation to the reading experience.)

Although life post pandemic is pretty grim and brutish, the novel doesn't come off that way, I suspect because a large part of Station Eleven is about the role of the arts in making life not only bearable but joyous, even in times of great catastrophe. As the Symphony has painted on its caravan, we need music, stories and art in our lives "Because survival is insufficient."

I liked the multiple points of view, the non-linear storyline, and the slow reveal of everyone's back story and how the stories eventually converge. There is some clever plotting that is not completely obvious at first (though it does quickly become clear what's going on) but very satisfying at the end.

Overall I liked it at least as much if not better than other dystopian lit I've read lately, namely Atwood's MaddAddam trilogy, Mitchell's The Bone Clocks, or Winters' Last Policeman trilogy. Station Eleven is melancholy and wistful but not overly depressing, and in fact has a beautiful, hopeful ending.

Highly recommended even for people who don't necessarily like dystopian lit.


Sourdough by Robin Sloan

I loved this! It had a perfect plot with a lot of humour and a little mystery and wonder. The narrator had a great voice, the secondary characters were charming and delightful, and it was exactly the right length. So great. It's odd, I really didn't care too much for Mr. Penumbra to the point where I didn't finish it, but I thought this book was fabulous. Maybe I should revisit Mr. P.
Eleanor Oliphant Is Completely Fine by Gail Honeyman

What a great way to start my 2018 reading. I didn't know it would be this moving when I started it, but this book really touched me. Eleanor is a difficult character to like at first, but boy does she grow on you. And so do the ancillary characters–Raymond and his mother, Sammy and his family, even Eleanor's coworkers. This is a book about overcoming unthinkable adversity and about how small moments of kindness can change someone's life. I really loved this one. It was original, funny, sad, and real. And importantly–hopeful. Eleanor Oliphant is not completely fine, but she will be.