---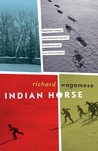 Indian Horse
by
Richard Wagamese
My rating:
4 of 5 stars
This is a very fast-paced novel. It's told from the point of view of Saul Indian Horse, a residential school survivor who has ended up in rehab for alcoholism. As part of his therapy at the treatment centre, he is asked to write an account of his life up to this point…and that is where the story begins.
In short, fast-paced introductory chapters, Saul outlines his family's history, his young childhood, and how his family's relatively peaceful existence was disrupted when government officials forcibly removed his siblings from their family of origin and took them to residential school. Eventually, despite the best efforts of his family, Saul is also taken to residential school, a place devoid of love and rife with abuse of all kinds. One thing saves him, and that is his introduction to the game of ice hockey.
Saul proves to have both natural talent for the game and also the tenacity and willingness to hone his skills until he is better than everyone he plays against. The rest of the narrative follows him through his rise and fall as a First Nations hockey player.
The narrative is compelling and historically accurate, unflinchingly clear but not gratuitous in its descriptions of the brutal abuse children really did endure in residential schools. The descriptions of hockey are lyrical and intense, and it is obvious that Wagamese has more than a passing interest in the game. It's a spare, simple story–not particularly complex, but the story it tells is told well. Although brutal, it's not unrelentingly grim or devoid of hope.
Overall, Wagamese is a good writer, but to be honest, his style is not one I am particularly drawn to. However, I think this would be a good assigned text, especially for more reluctant readers in a Grade 12 English class. It's definitely high interest/low(er) reading level. I think I will offer it as an option for my students this semester alongside Joseph Boyden's Through Black Spruce for an alternative that touches on some of the same themes in a more complex way.
This review has also been posted to Goodreads. You can read my other Goodreads reviews here.
---
Further information about the history and current state of Aboriginal hockey in Canada: